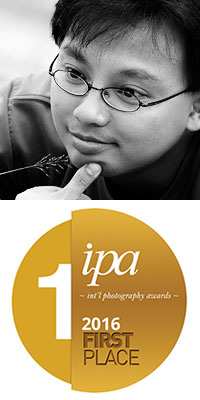 As a motto of VIILevent Photography: When a Moment Become an Art, David as a self-tough Photographer, keep trying to to combine all the elements on your lovely moment to become a piece or art.
He is an International and national awards winning photographer.
His latest achievement as 1st place in Sports – Field sports category, International Photography Awards 2016 and Grand Price Winner at Expat Living Competition Singapore 
1st Winner, Singapore Garden Photographer of the year 2015
Theme2: Trees, Forests and Parks
He has named as Commended Photographer by Sony World Photography Contest 2015.
He is the 2nd place, Singapore, National Award, 2015 Sony World Photography Awards. The biggest Photography competition in the World.
He has been listed as Canon EOS World Event Photographer of the year 2013
His achievement of photography can be seen here: http://www.viilevent.com/awards-exhibitions
His works has been published in some media and newspaper in Singapore.
Ex: Strait Times, Tao Bao, My Paper, Todays, The New Paper, Berita Harian and Tamil Murasu.
VIILevent Photography is listed as 1 of 5 Event Photographers to Take Note Of in Singapore for Events by GEVME
In the Sports Photography, he has been appointed as official photographer for Netball Singapore for National and International Event, official photographer for ONE Championship, and HSBC Rugby World 7 Series.
In the Fashion Photography, he is the official photographer for Digital Fashion Week 2014.
At that time, He got opportunity to work closely with Jourdan Miller, America's Next Top Model Cycle 20 and Sheena Liam, Asia's Next Top Model Cycle 2 and Carmen Dell'Orefice, The world's oldest Supermodel.
VIILevent Photography has been appointed for Raffles College of Higher Education Graduation and Fashion Show and AT-Sunrice GlobalChef Academy and Stirling University
In Stage / Music Photography, He is the Official Photographer Singapore Jazz Festival 2015
He has been appointed as Photographer for some musical / Theater show at Lasalle College of the Art
In the Nature Photography, He was appointed by Garden By The Bay Singapore to documented all the plantations and all the wildlife animal, bids in the that area.
As adventurous, he keep to try more field of photography, like sport, stage, event and his passion of nature, make him got recognition from media, magazine, exhibition and art museum..etc
He has actively sharing his knowledge of photography on some workshops and was invited to become a speaker at National Geographic Indonesia.
VIILevent Pte Ltd is a registered vendor at Singapore Vendor@Gov
VIILevent Pte Ltd is a registered industry partner of the Singapore Tourism Board (STB)
He will give his passion of photography to capture your moment of life to become a piece of Art through VIILevent Photography
Best Regards,
David Wirawan.
Viilevent Pte Ltd.
Registered number: 201026846K
Copyrights
© 2011-2016 All Photographs By VIILevent. All rights reserved